The Q4 Market Report for Southern California revealed a decrease in home sales activity across the region. The South Bay was no exception, with activity declining 43% compared to Q4 of the previous year. This downward trend can be attributed to two primary factors: the Federal Reserve's steadily increasing interest rates and the typical holiday slowdown which sees buyers and sellers alike take a break from the market.
As buyers recalculate their budgets and reevaluate where they can afford to buy, many are choosing to wait on the sidelines for now. Average days on market in the South Bay increased from 24 days to 40 average days on market compared to Q4 last year. This increased caution has led to decreased demand, and ultimately, lower sales numbers.
The Q4 market report showed that home prices in the South Bay and Palos Verdes were down 5% to a median of $1.6 million. This was lower than Westside / South LA where the median sales price dropped 6% to $929,363.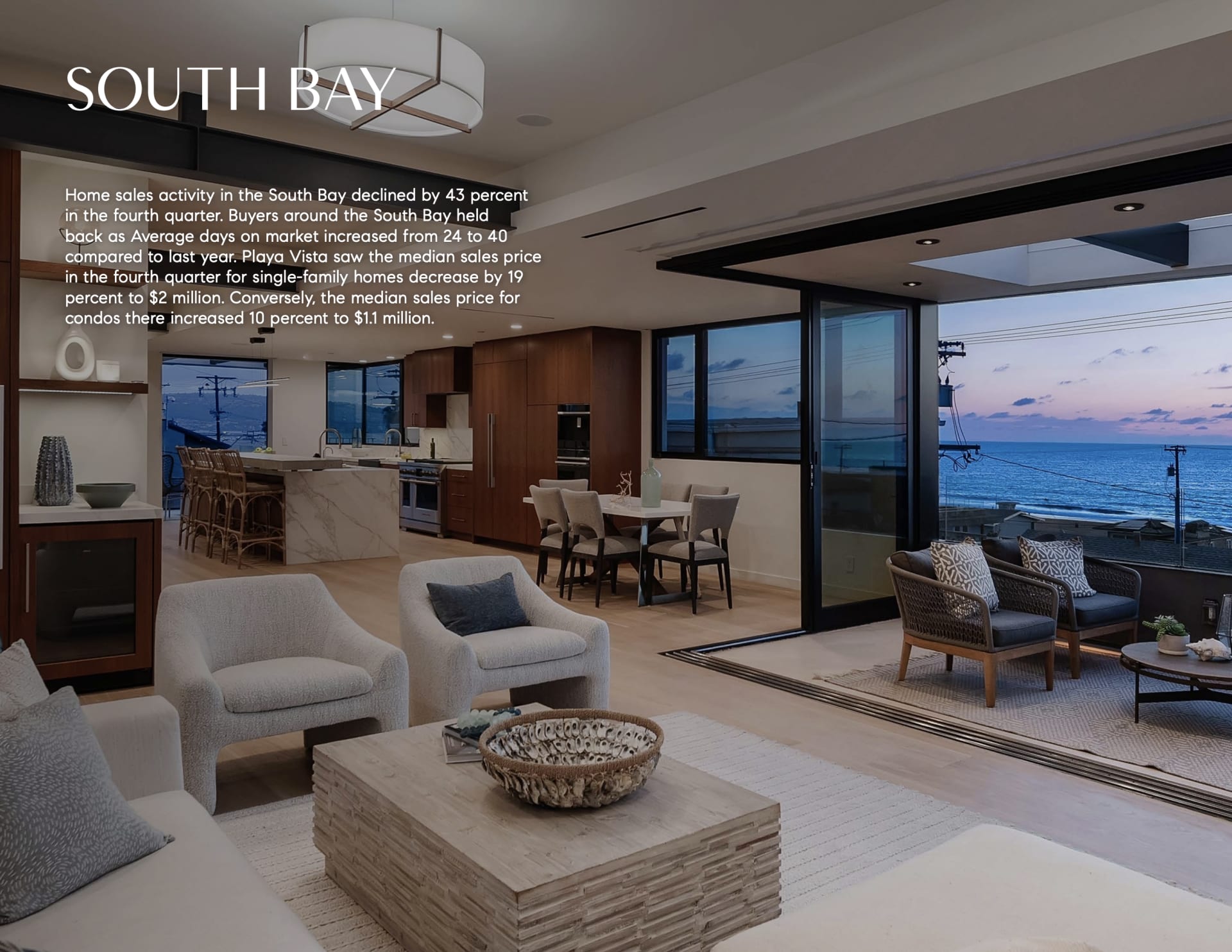 It is important to note that these figures may not be indicative of the market's long-term trends as Q4 can often be subject to short-term market changes and holiday season fluctuations. As buyers and sellers alike become more confident in the economy, we may see a rise in activity and prices throughout Q1 of 2023.
Overall, Q4 showed that the South Bay market remains largely steady despite a decrease in activity compared to previous quarters. As buyers continue to adjust their home search expectations amid changing economic conditions, we may see further shifts in pricing demand as Q1 progresses. It is important for both buyers and sellers to stay up-to-date with the market in order to make informed decisions.
Questions about the market or what we are predicting in the future? Reach out today to talk to a reliable real estate professional.
Tony Accardo
310.855.3556 | [email protected]