When it comes to transforming a house into a home, few elements have the power to evoke emotions, set moods, and breathe life into spaces quite like paint. Whether you are looking to create a cozy, inviting atmosphere in your living room, add a pop of personality to your kitchen, or establish a soothing sanctuary in your bedroom, the right paint can make all the difference. To help you make the best choice for your home, we've put together a list of our favorite paint colors from a variety of trusted brands. Whether you're looking for a classic white or a bold and moody shade, these colors are sure to enhance your home's beauty and atmosphere.
Here are some of our favorite paints for every room, cabinet, or bathroom in your home.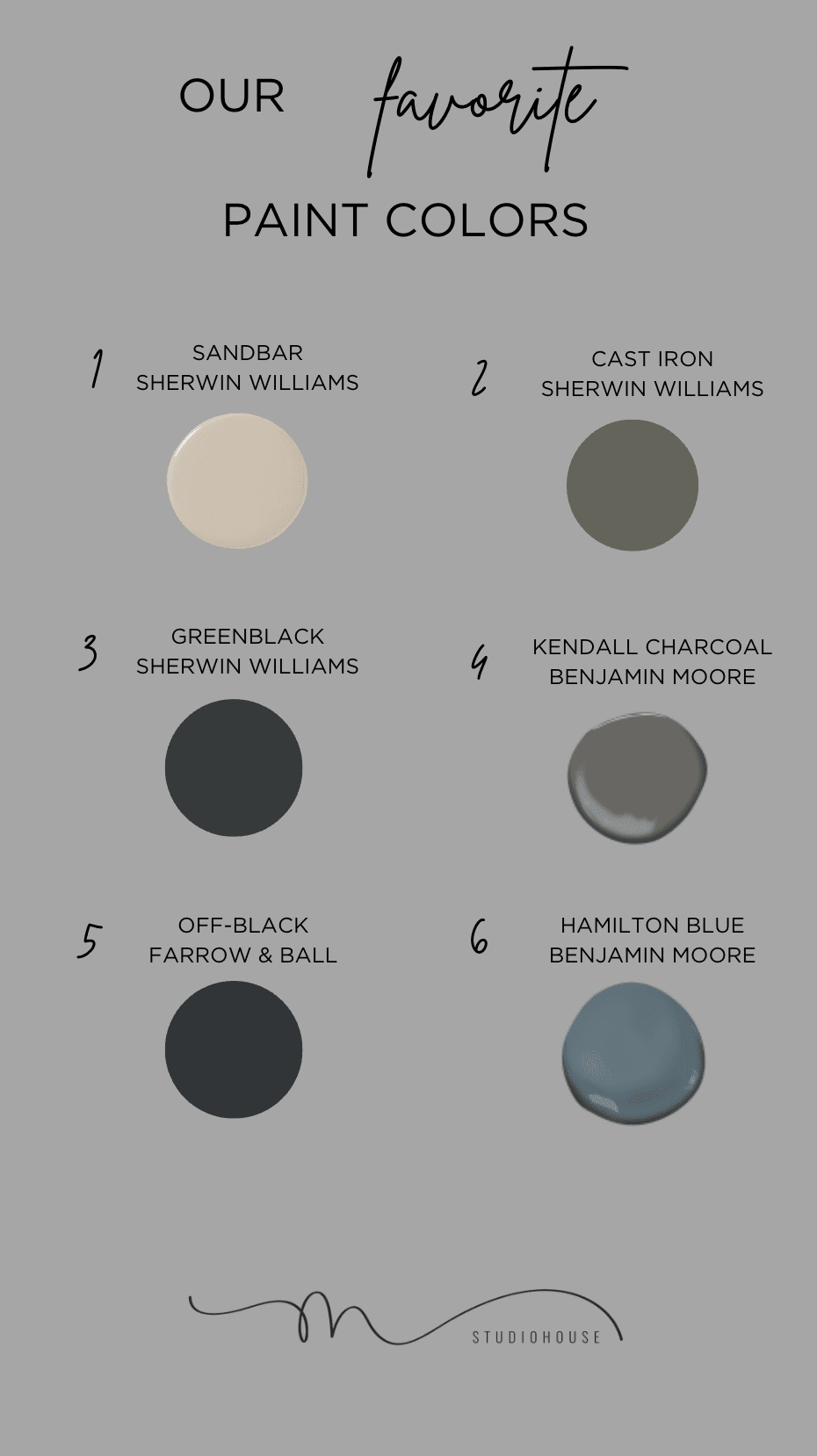 1. Sandbar - Sherwin Williams
Sherwin Williams' Sandbar is a gentle, neutral color reminiscent of a peaceful day at the beach. Its sandy beige tones bring a sense of warmth and relaxation to any room. Whether you're aiming for a coastal-inspired interior or simply want a calm and soothing space, Sandbar is an excellent choice.
2. Cast Iron - Sherwin Williams
Cast Iron, another Sherwin Williams favorite, offers a striking alternative to the more traditional neutral colors. This deep, dark charcoal shade adds a sense of drama and sophistication to a room, making it an excellent choice for accent walls, doors, or cabinets. It pairs well with lighter shades to create a balanced contrast.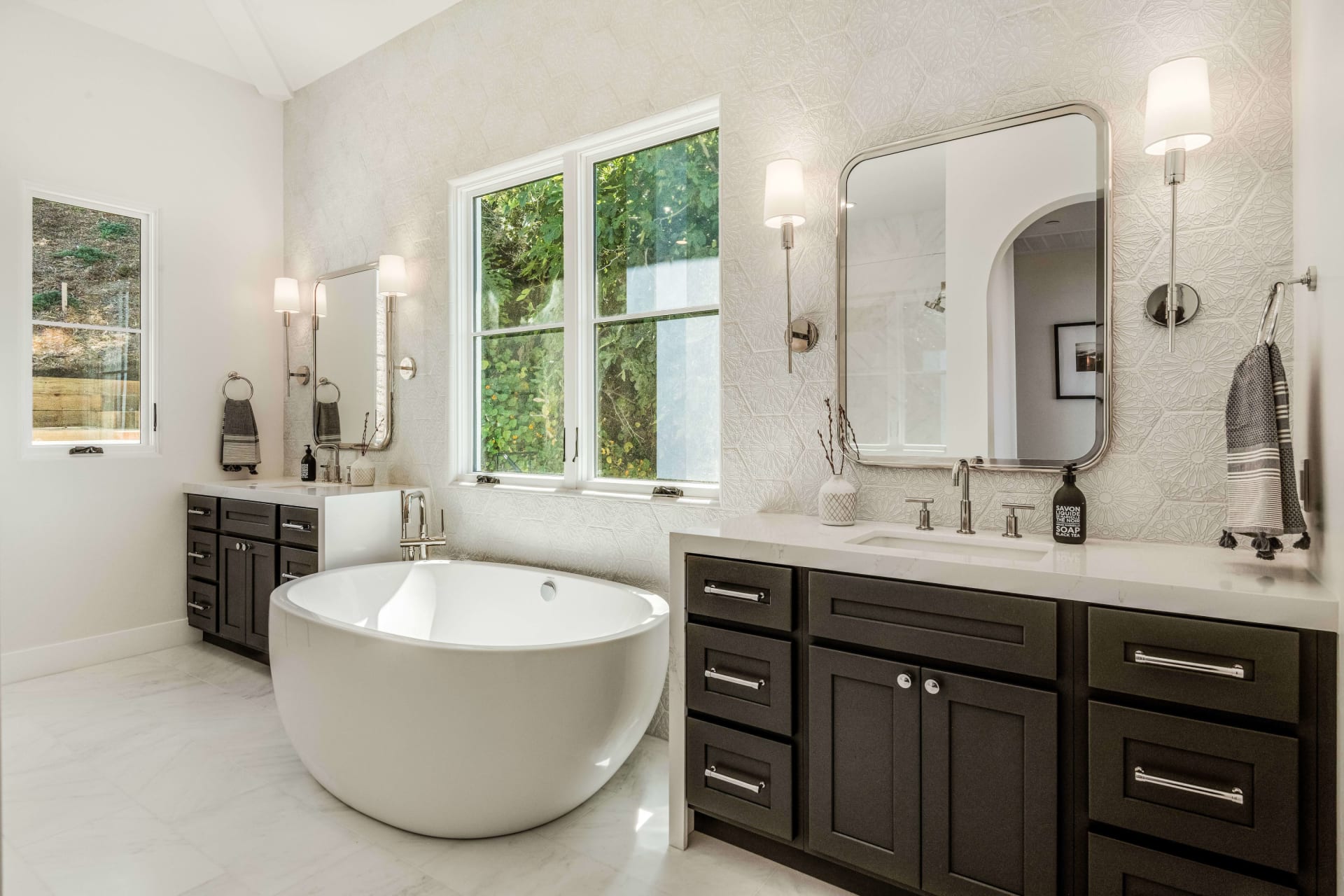 3. Greenblack - Sherwin Williams
If you're looking to infuse your space with a rich and opulent vibe, Greenblack from Sherwin Williams might be just what you need. This deep, velvety green-black color is perfect for creating an intimate, luxurious atmosphere in your home. It's a unique choice for spaces where you want to make a bold statement.
4. Kendall Charcoal - Benjamin Moore
Kendall Charcoal, a Benjamin Moore classic, is a versatile gray with cool undertones. It works beautifully in a variety of interior styles, from traditional to contemporary. Use it on your walls for a refined, sophisticated look or on cabinetry for a touch of elegance.
5. Off-Black - Farrow & Ball
Farrow & Ball's Off-Black offers a regal and sophisticated black with subtle undertones that add depth and character to your space. It's an excellent choice for creating a cozy, intimate atmosphere and works wonderfully in bedrooms and living rooms.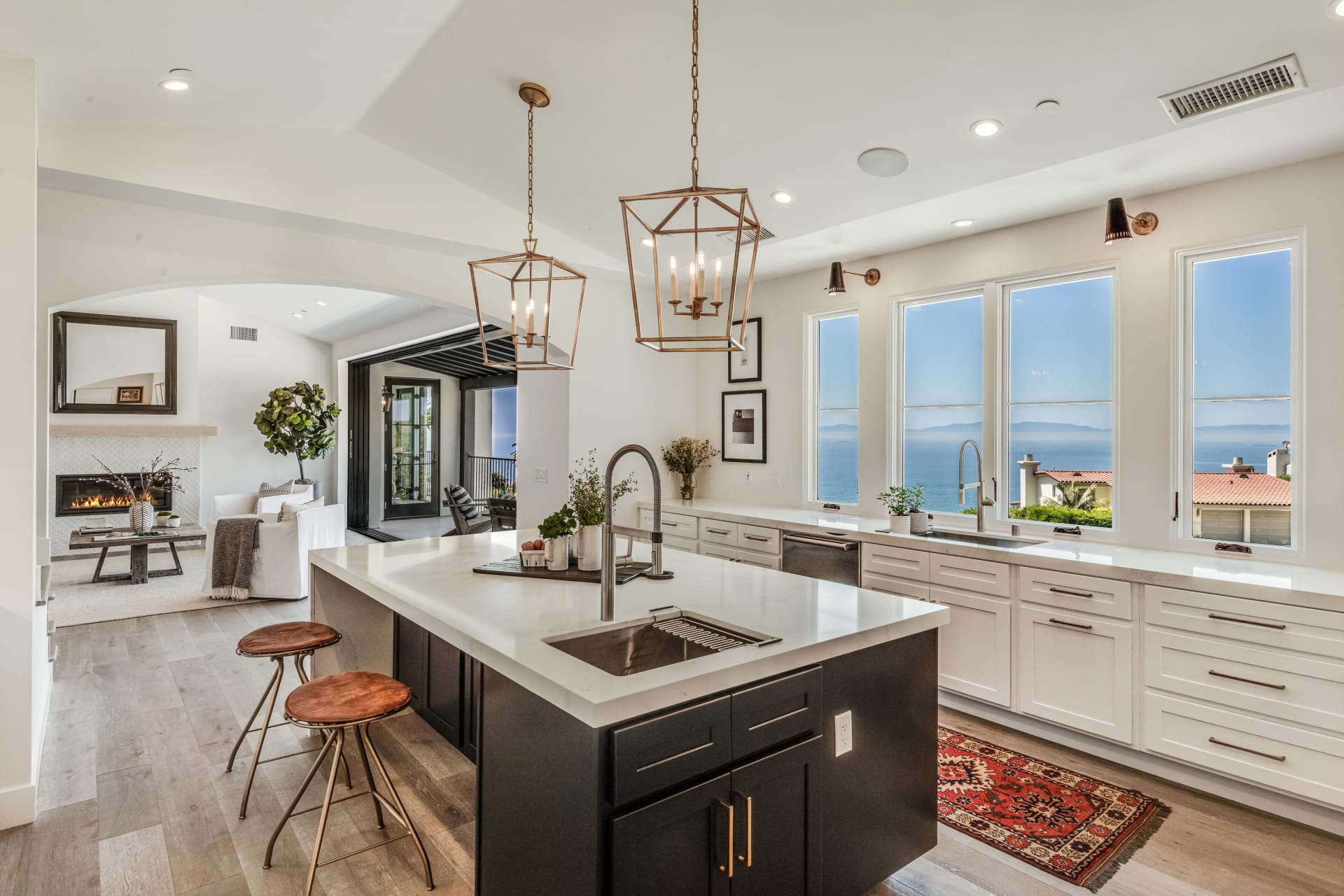 6. Hamilton Blue - Benjamin Moore
Benjamin Moore's Hamilton Blue brings a touch of coastal serenity to your home. This soothing and tranquil shade of blue-green is perfect for bedrooms, bathrooms, or any space where you want to evoke a sense of relaxation and escape.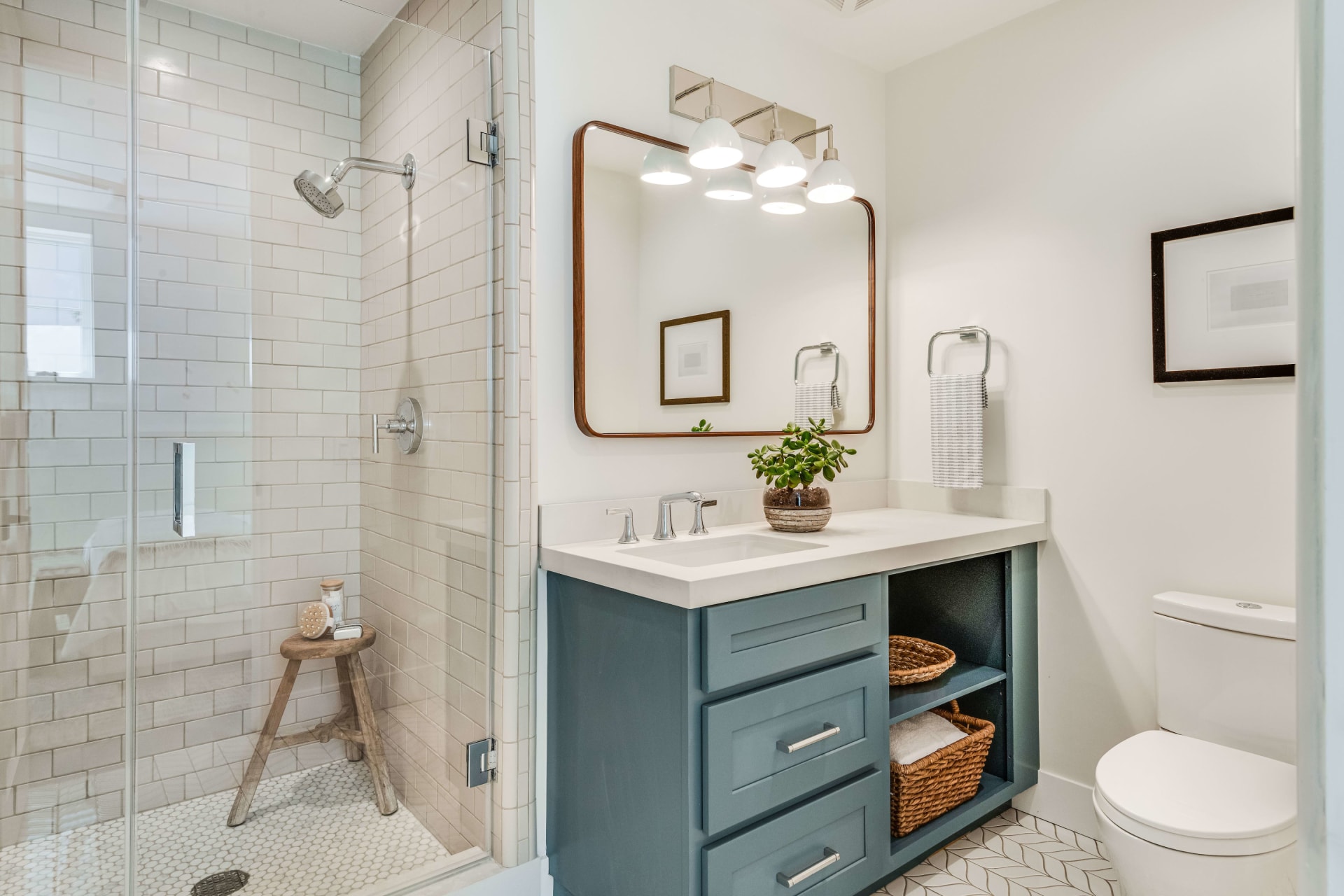 Our Favorite Whites: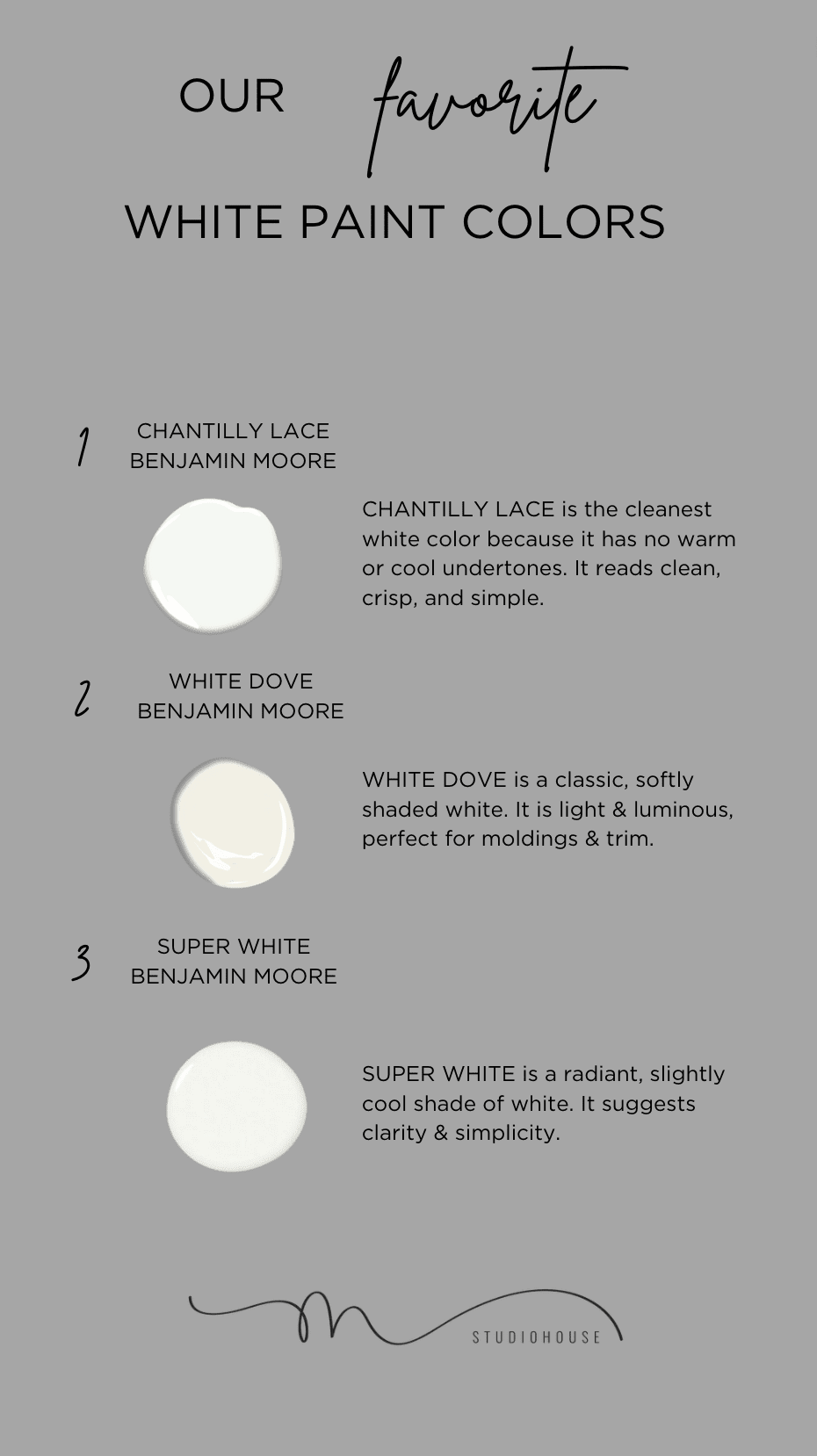 1. Chantilly Lace - Benjamin Moore
If you're a fan of classic, timeless beauty, Chantilly Lace from Benjamin Moore is a shade you'll adore. This bright, crisp white exudes a sense of purity and freshness, making it perfect for creating a serene and sophisticated atmosphere in any room. It pairs wonderfully with virtually any other color, making it a versatile choice for any style of home decor.
2. White Dove - Benjamin Moore
White Dove, also from Benjamin Moore, is another exquisite white that leans slightly warmer than Chantilly Lace. Its soft, creamy undertones make it ideal for creating a cozy and inviting ambiance. This versatile hue can be used on walls, trim, or cabinets, and it complements various design styles, from traditional to modern.
3. Super White - Benjamin Moore
Super White by Benjamin Moore is a brilliant and crisp white paint that deserves a special mention. As the name suggests, it's the epitome of pure and pristine white, making it an excellent choice for those who want a clean and bright canvas for their living space. Super White is a popular choice for trim, molding, and ceilings, as it can create a stunning contrast when paired with other colors.
For some of my other favorite white paints to use in a home watch here!
The right paint color can transform your home into a space that reflects your personality and style. Whether you prefer the timeless elegance of Chantilly Lace, the bold statement of Greenblack, or the tranquility of Hamilton Blue, there's a perfect paint color for every room in your home. Be sure to sample these colors in your space to see how they interact with the lighting and other elements in your environment. Ultimately, the best paint color is the one that resonates with you and creates the atmosphere you desire. Happy painting!