Rancho Palos Verdes
is home to some of the best restaurants in Southern California. From Italian to Japanese cuisine, the dining scene here offers something for everyone. One of Rancho Palos Verdes' most popular restaurants is Catalina Kitchen, a modern American restaurant located inside the Terranea Resort. Mar'sel features a tasting menu with dishes inspired by Mediterranean and Californian cuisine. Think Prime offers high-quality prime cuts for steak and music lovers in a warm and inviting atmosphere, while The Original Red Onion is nearby Rolling Hills Estates' go-to family-style Tex-Mex dining spot. Finally, Yellow Vase specializes in baked goods and bouquets.
1: Catalina Kitchen
100 Terranea Way, Rancho Palos Verdes, CA 90275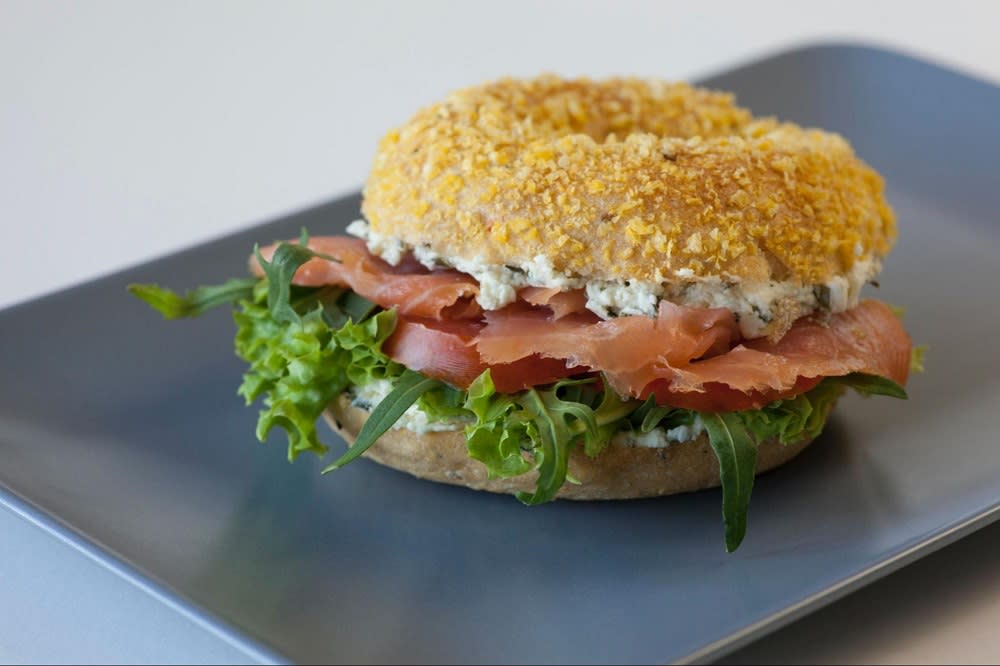 Photo courtesy of Unsplash
If you're looking for an exceptional dining experience near Palos Verdes homes for sale, look no further than the Catalina Kitchen at the Terranea Resort. Feast on some of the local favorites like açai bowls and smoked salmon bagels, or indulge in classic dishes, such as freshly baked biscuits with gravy or fried chicken paired with fluffy waffles for breakfast.
The lunch menu offers many delicious options, such as the spinach and artichoke dip appetizer, BBQ chicken pizza, steak frites, and yummy cake pops for dessert. When it comes to dinner, you can set yourself up nicely with starters like tomato bisque, crab cakes, or ahi tuna tartar, or go straight to the mains: grilled swordfish, garlic cream fettuccine, twelve-hour braised short rib, or New Orleans-style BBQ shrimp, to name a few.
Diners with a sweet tooth will be delighted by desserts like fluffy strawberry and Nutella bombolinis, creamy crème brûlée cheesecake, or classic Italian gelato. On top of that, you can plan a special date night by attending the Magic By the Sea Show on every first Friday night, with magician David Groves and specialty cocktails to enjoy!
2: mar'sel
100 Terranea Way, Rancho Palos Verdes, CA 90275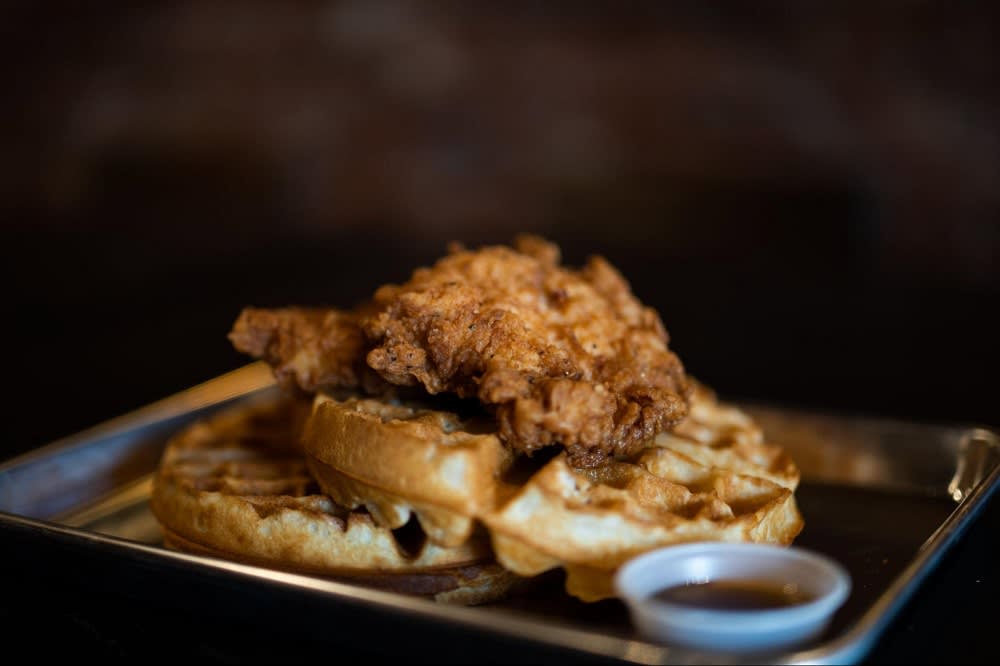 Photo courtesy of Unsplash
If you are looking for a culinary experience in an effortlessly elegant setting, head next door to mar'sel. Enjoy a picture-perfect view of the Pacific Ocean while savoring a seasonally rotating menu crafted with locally sourced ingredients. Enjoy perfectly simplistic yet inventive dishes tailored to suit every palate, from farm-fresh eggs to citrus and herbs plucked right from the resort's grounds and hand-ground chocolate.
For a memorable date night, try the White Truffle Tasting Menu, which has five courses. The current tasting menu includes beef carpaccio, cauliflower veloute, ricotta spinach ravioli, duck with gruyere polenta, and a white chocolate mousse with figs for dessert.
The Sunday Brunch is also popular among families, with kid's menu favorites like scrambled eggs, waffles, or buttermilk fried chicken. Adults can enjoy selections from the raw bar, or the three-course brunch with breakfast pastries, steel-cut oats, or shrimp cocktail to start, followed by the omelet of the day, pastrami benedict, or fried chicken and waffle. End your meal with lemon cheesecake or sea salt pot de creme.
3: Think Prime Steakhouse & Piano Bar
29601 S Western Ave, Rancho Palos Verdes, CA 90275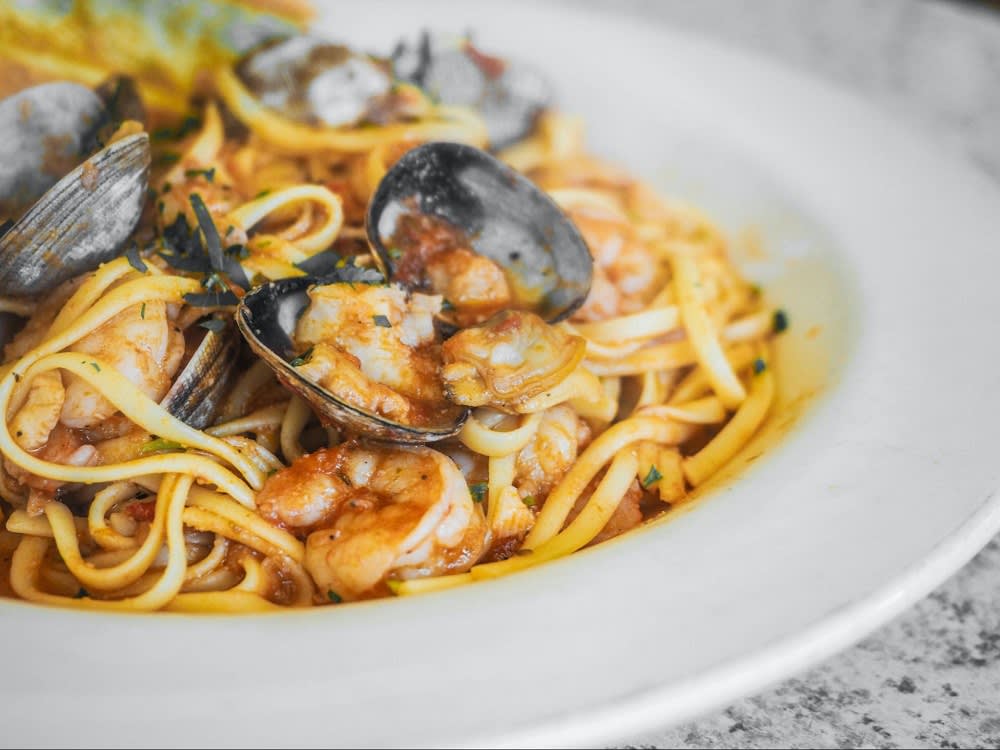 Photo courtesy of Pexels
If you're looking for an unforgettable night, take a break from touring Palos Verdes homes for sale and head over to Think Prime Steakhouse & Piano Bar. On Tuesdays, customers can get a special 10-oz Prime Rib au Jus with a wedge salad and a chef's dessert selection to top off the evening. If you're coming in during Wednesday Happy Hour, take advantage of the $1 oysters, as well as other delightful snacks like spicy mushroom dip, brie walnut toast, bacon mac & cheese, and coconut shrimp!
If it's dinner time you're after, try some of their small plate options, like oysters Rockefeller, fried calamari, or steamed clams. There are also plenty more mouth-watering dishes, including lobster bisque and arugula, beet salad with feta and walnuts, linguini and clams, lobster ravioli, Angus short ribs, and Chilean sea bass. Last but not least, don't forget about desserts, such as their signature cheesecake, bread pudding, or Tarte Maison.
Beyond great food, Think Prime Steakhouse & Piano Bar offers an experience like no other. Enjoy a night out on the town with entertainment in the form of live music and pool games. Smooth jazzy selections are featured Sunday through Tuesday evenings, with karaoke every Wednesday. Get down and dance on Thursday and Friday nights when the band plays your favorite tunes. The welcoming, friendly atmosphere makes for a great place to party or sit back and relax.
4: The Original Red Onion
736 Bart Earle Wy, Rolling Hills Estates, CA 90274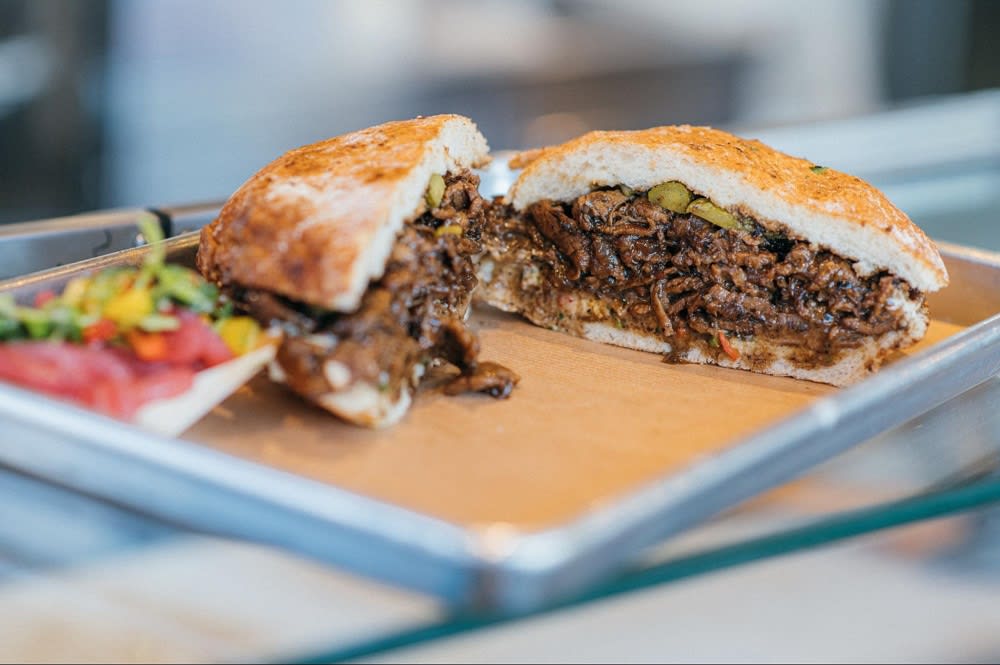 Photo courtesy of Unsplash
It's no wonder that Red Onion Restaurant has been a Southern California mainstay for the past half-century — it blends family traditions with delicious recipes to create an unforgettable dining experience.
Founded by Jeff Earle's family, who had been in the restaurant business for four generations, the first Red Onion Restaurant opened its doors in Inglewood in 1949. Using Grandma Catalina's special recipes, this 19-seat diner soon grew into multiple locations, but only one branch remains today: The Palos Verdes Red Onion.
A visit to this beloved restaurant is unlike any other; its walls are filled with old mementos, photographs, and memories of days gone by — passings of love that have been kept since 1963 when Red Onion opened its doors in Palos Verdes.
The restaurant has something for everyone to enjoy, no matter the meal. Start off with the yummy appetizers, like nachos or jalapeño poppers. Entrees options include something special like the Chef's Chile Relleno or a chili con Carne Platter. If you're in the mood for Carne Asada or a Red Onion Steak Sandwich, they have that, too! There are also fajitas with your choice of chicken, beef, vegetarian, orange roughy (fish), or shrimp. They have wonderful desserts like lemon cake, spumoni, and deep-fried ice cream if you're looking for a sweet treat. Kids can also find something fun on the menu, from enchiladas or cheese quesadillas to a Jr. Hamburger. Plus, don't forget about breakfast! Try one of the local favorites like roast beef with grilled peppers, onions, tomatoes, and scrambled eggs — it's delicious!
5: Yellow Vase
31248 Palos Verdes Dr W, Rancho Palos Verdes, CA 90275
Greeted with amazing pastries and coffee aromas, the Yellow Vase Bakery, Cafe & Flowers provides a one-of-a-kind experience that will delight you at every moment. Serving up mouthwatering breakfast and lunch items for foodies in the area, this cafe also takes pride in its full-service flower shop and gift shop. Specializing in wedding florals and other flowers for larger celebrations, as well as the perfect bouquet for your sweetheart, the Yellow Vase is truly a high-end destination that even Hollywood stars are known to frequent. With beautiful surroundings, helpful staff, and unbeatable treats and blooms, it's no wonder why customers keep coming back. Try the caramelized apple French toast or the curry chicken salad sandwich. Their honey vanilla latte and white mochas are also quite popular. So, if you haven't taken a visit to your local Yellow Vase yet, stop by soon and discover what everyone else has been raving about!
Palos Verdes is home to some of the most delicious restaurants and eateries in Southern California. Whether you're looking for a hearty breakfast or lunch, an unforgettable dining experience, or sweet treats from the local bakeries, Palos Verdes has it all. And when it comes to Palos Verdes homes for sale, no one does it better than the experienced team at
Accardo Real Estate
. Reach out today if you're interested in learning more about
Palos Verdes real estate
.
*Header photo courtesy of Pexels